Food delivery giant DoorDash is launching a fleet of corner stores accessible only via its contracted couriers as it hopes to win a share of Australia's $100 billion annual grocery market despite the recent failure of a string of local start-ups attempting the same thing.
The company has been trialling three "DashMart" sites that will serve as bases to rapidly deliver fresh groceries, pantry staples and household items to customers living near the inner-western Sydney suburb of Alexandria, Melbourne's CBD and Brisbane's West End.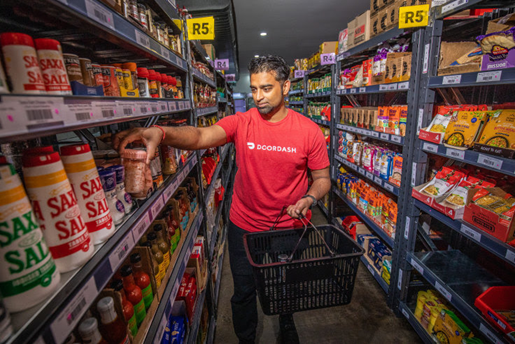 DashMart's Melbourne site: Locals will be able to pick up groceries via the DoorDash app.
DashMart's Melbourne site: Locals will be able to pick up groceries via the DoorDash app. SCOTT MCNAUGHTON / THE AGE
DoorDash believes it has the scale to succeed where its competitors have failed. "We wouldn't be launching and expanding if we weren't confident," DoorDash Australia, Canada and New Zealand general manager Rebecca Burrows said.
DoorDash, a $US21 billion ($32 billion) US-listed firm, has much deeper pockets than its Australian competitors and has learnt from their failures: the business will not make ambitious claims of fulfilling orders within a specific timeframe.
"We're not building a proposition that is too good to be true, where it's kind of unbelievable that you can do it," Burrows said. "We're building a proposition that is sustainable for what we know our consumers want and what our Dashers can do and what we can fulfil."
DashMart's Australian launch comes just weeks after Voly, a start-up that raised $18 million in seed funding to deliver groceries from similar "dark stores", announced it was ceasing to operate, citing a tough economic environment.
Its collapse followed market peers Quicko, which folded in mid-March, and Send, which called in administrators in May. Milkrun, the best funded of the local start-ups, is operating in parts of Sydney and Melbourne, but leaked investor documents from April showed it was losing about $13 per order.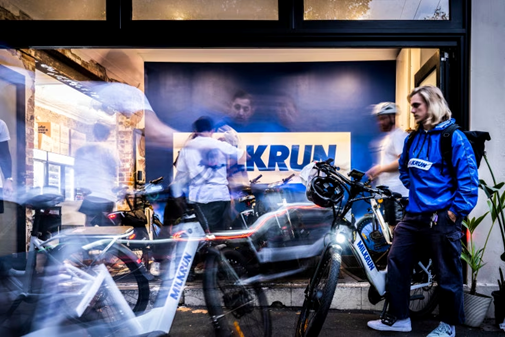 Burrows said the short-lived start-ups' ability to accumulate a substantial customer base was proof that demand existed for rapid delivery grocery services.
"It wasn't that they didn't have demand. It was that they probably couldn't fast enough get the business model to work because they were operating in a niche," she said.
"We've already got a lot of the infrastructure that you need to make a marketplace work … We won't have the same challenges [where] they're trying to build the whole piece from the beginning – we're layering this into a business that's already highly successful."
Unlike Voly, Send and Milkrun, DoorDash does not employ its riders. Instead it engages them as independent contractors who are not entitled to a minimum wage, penalty rates, traditional workers' compensation or other employee benefits. But that model is also efficient, allowing riders flexibility and the chance to work for several services at the same time. DoorDash's riders will be able to collect orders from restaurants and its DashMarts on the same trip.
In Sydney and Melbourne, DashMart will be competing with Milkrun as well as supermarket giant Woolworths' Metro60, which it rolled out four months ago promising deliveries in under 60 minutes, and uses couriers from Uber.
Burrows said DashMart would complement major grocery chains by sourcing products from local businesses outside their range as well as through its extended operating hours of 7am to 3am.
While it was the last of the major food delivery players to enter the Australian market in September 2019, DoorDash has swiftly captured market share. Its more established competitor, Deliveroo, pulled out altogether last week. DoorDash reaches about 80 per cent of Australian consumers and has 70,000 couriers and 30,000 merchants.
DashMart's delivery fees will be calculated according to distance. Site managers, operators and store packers will be employed or contracted by DoorDash, which will purchase products from suppliers.
Burrows said DoorDash would not head in the same trajectory of Deliveroo and the business was "confident about runway here in Australia".
"We're here in Australia to stay, you know, we've made a very deliberate decision to enter Australia to continue to expand and innovate in Australia," she said.
Michael Kaine, the national secretary of the Transport Workers' Union and a critic of the gig economy, said DoorDash had been part of industry calls for the federal government to set minimum standards in the transport sector. Until then, Kaine argued, expanding gig operators would continue to put downward pressure on wages.
The industry disputes that claim, and one gig economy industry insider, who was not authorised to speak on the record, said DoorDash's new business could work because it leveraged their existing base of customers who ordered from restaurants.
https://amp-smh-com-au.cdn.ampproject.org/c/s/amp.smh.com.au/business/entrepreneurship/wouldn-t-launch-if-we-weren-t-confident-doordash-set-on-conquering-grocery-delivery-20221122-p5c0an.html
Subscribe to our free mailing list and always be the first to receive the latest news and updates.