23/08/22; Roy Morgan
What is the purpose of the Jobs & Skills Summit
"One of the key factors driving the Jobs & Skills Summit is the call by many business leaders to immediately increase immigration to address apparent 'skills and labour shortages'.
And with the ABS saying fewer than half a million people are unemployed that's not surprising.
But even before we look closely at the numbers there are questions.
Are these shortages long-term or short-term? Are the shortages caused by COVID infections which force people to stay home or stimulus which drives increased demand for products, services & employment.
Are there people who could, with retraining, join the labour force?
However, the labour market is not that simple."


What are the actual unemployment numbers?
"The latest Roy Morgan unemployment figures for July show there are 1.25 million Australians out of work and looking for a job (8.5% of the workforce) and another 1.27 million Australians who want to work more hours (8.6% of the workforce).
This means a total of over 2.5 million Australians (17.1% of the workforce) want to either work more hours or find a job – that is over 1-in-6 Australians in the workforce.
Remember, the ABS unemployment figures say there are only 3.4% of the workforce unemployed (474,000).
This is a difference of over 770,000 people!
Why is there such a difference?
The key reason is the way being unemployed is defined."
Roy Morgan Unemployment & Under-employment (2019-2022)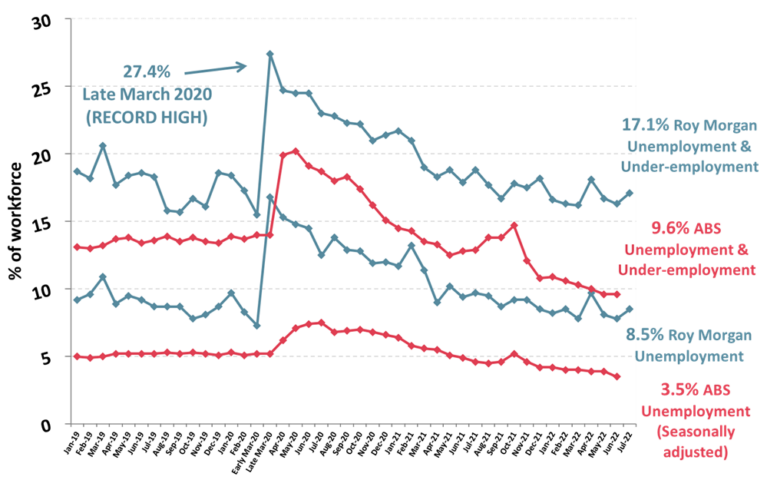 How do Roy Morgan and the ABS define unemployment?
"Roy Morgan asks a person who is not in paid employment if they are looking for paid work.
If the answer is yes – Roy Morgan considers that person to be unemployed.
They aren't currently working but they do want a job and they do want to work.
The ABS classifies a person as unemployed only if, when surveyed, they have been actively looking for work in the four weeks up to the end of the reference week and if they were available for work in the reference week. That means anyone out of work for say three weeks is never counted.
The ABS classifies a person as employed if, when surveyed, a person worked for one hour or more during the reference week for pay, profit, commission or payment in kind, or even if a person worked for one hour or more without pay in a family business or on a farm.
These restrictions cut down greatly on the number of people the ABS considers unemployed, and boosts the number of people employed, and explains the difference between the Roy Morgan and ABS unemployment figures."
Latest Roy Morgan Unemployment for July 2022: https://www.roymorgan.com/findings/9044-australian-unemployment-estimates-july-2022-202208090001
Latest ABS Unemployment for July 2022: https://www.abs.gov.au/statistics/labour/employment-and-unemployment/labour-force-australia/jul-2022


ABS 'Potential workers' annual release shows similar figures to Roy Morgan unemployment
"However, the monthly results published by Roy Morgan and the ABS are not the full story of Australia's labour markets.
The ABS also publishes an annual survey on 'Potential workers' which much more accurately captures the true level of unemployment in Australia.
In late May 2022 the ABS released the latest version of this survey for the month of February 2022 – conveniently it was the week after the Federal Election and was largely ignored.
The 'Potential workers' survey showed there were 1.8 million 'Potential workers' in Australia and another 900,000 under-employed workers – over 2.7 million Australians either wanting to work or wanting to work more hours.
All these figures are clearly laid out within the release and in the chart you can see the 'Potential workers' who want to work but who are not considered as part of the labour force in dark blue.
The parts in light blue comprise the ABS monthly unemployed.
The remarkable aspect of this release is that the figures are so similar to those from Roy Morgan.
Without commenting on whether or not we should have more immigration, these extra potential workers should not be forgotten in the deliberations at the summit.
What's needed is to match them with the jobs – retraining, relocation and community support."
Latest ABS 'Potential workers' release for February 2022 (released on May 24, 2022): https://www.abs.gov.au/statistics/labour/employment-and-unemployment/potential-workers/latest-release
Roy Morgan Unemployment & Under-employment (July 2022) vs. ABS Unemployment & Under-employment (July 2022) & ABS 'Potential workers' (February 2022)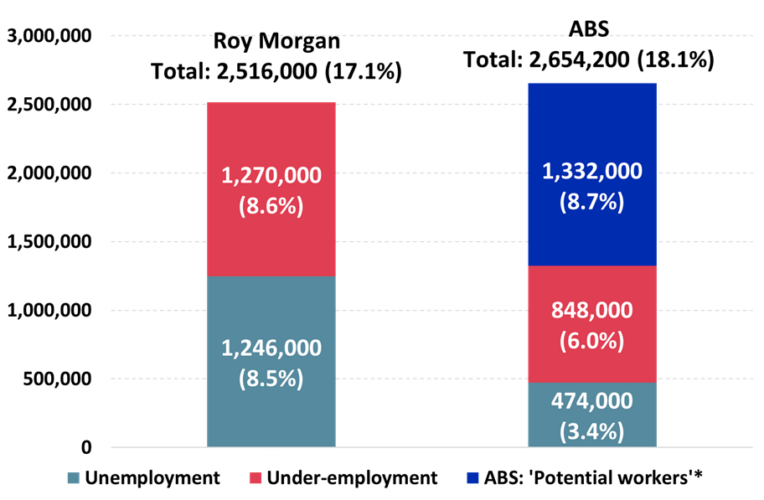 This Roy Morgan survey on Australia's unemployment and 'under-employed'* is based on weekly interviews of 846,638 Australians aged 14 and over between January 2007 and July 2022 and includes 7,436 telephone and online interviews in July 2022. *The 'under-employed' are those people who are in part-time work or freelancers who are looking for more work.
Contact Roy Morgan to learn more about Australia's unemployed and under-employed; who and where they are, and the challenges they face as they search for employment opportunities.
Visit the Roy Morgan Online Store to purchase employment profiles, including for Australians who are employed, unemployed, under-employed, employed part-time, employed full-time, retired, studying and many more.
Subscribe to our free mailing list and always be the first to receive the latest news and updates.