The pizza chain has procured 800 custom Chevy Bolts in the hopes of attracting more delivery drivers.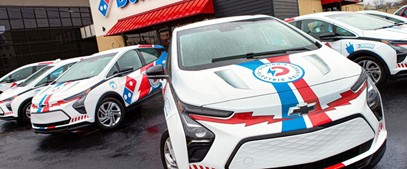 ANN ARBOR, Mich.—Domino's Pizza has invested in 800 Chevy Bolt electric vehicles to deliver its pizzas to customers in a move to reduce its carbon footprint and also attract delivery drivers who may not own a vehicle.
"Domino's has always been on the cutting edge of pizza delivery and electric delivery cars make sense as vehicle technology continues to evolve. We've made a commitment to net-zero carbon emissions by 2050, and this is one way we can begin reducing our environmental impact, one delivery at a time," said Russell Weiner, Domino's chief executive officer.
More than 100 custom-branded Chevy Bolts are arriving at select franchise and corporate stores throughout the U.S. this month, with the additional 700 rolling out in the coming months. Domino's says it will be the largest electric pizza delivery fleet in the country.
Domino's already delivers with electric bikes and/or scooters in 24 international markets, including the U.S.
"We're excited that Domino's has chosen the Chevrolet Bolt EV to build their electric pizza delivery fleet in the U.S.," said Ed Peper, vice president of GM Fleet. "With an affordable price, fun driving characteristics and a 259-mile range, the Chevy Bolt EV is the future of Domino's electrified deliveries."
Electric vehicles are starting to go mainstream in the U.S., as a new cohort of EV enthusiasts purchase battery-powered vehicles. According to data from Cox Automotive, battery-powered vehicles are the fastest-growing segment of the auto market. Sales were up 70% in the first nine months of 2022 year over year, while internal-combustion-engine (ICE) vehicles were down 15%. EV's share of new vehicle sales increased to 5.6% from 2.9% year over year.
The data also found that EV buyers in 2021 were more likely to be female and younger than the average EV purchaser in 2019.
The Convenience Matters podcast, "Where Do EVs Make the Most Sense?" examines the findings from a Fuels Institute study looking at life-cycle emissions for EVs and fuel-powered vehicles. NACS also has a topics page on electric vehicles.
https://www.convenience.org/Media/Daily/2022/Nov/22/3-Dominos-EV-Pizza-Delivery_Operations_Last-Mile
Subscribe to our free mailing list and always be the first to receive the latest news and updates.