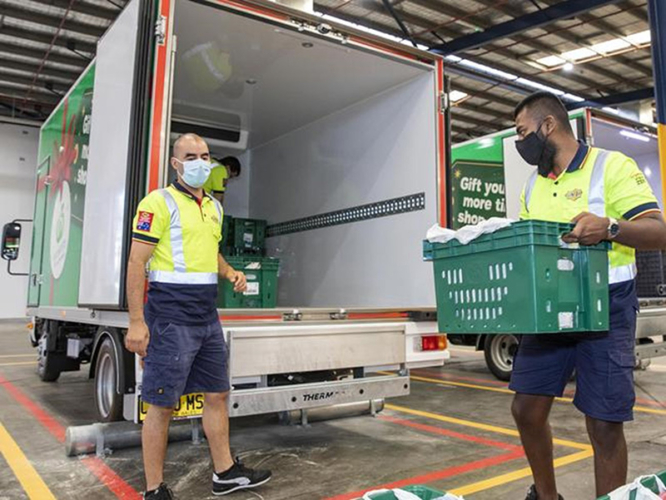 Shoppers need only to spend $50 to get a Woolworths free delivery.
Woolworths fired the first shot in the post-pandemic supermarket war by halving the amount shoppers need to spend to get food delivered to their door.
The supermarket chain has reduced the minimum spend for free delivery from $100 to $50 – one of a series of changes it hopes will retain customers who have turned to online shopping during lockdowns.
The minimum $50 spend also includes same day deliveries.
That minimum spend applies to Delivery Unlimited subscribers, For all other online customers, the fee for delivery is up to $15.
Woolworths has rolled out changes to its discount program, Delivery Unlimited, by dropping a subscription cost by 30 per cent to $119 a year.
Delivery Unlimited offers unlimited home deliveries, while also covering the cost of reusable or paper bags, and was first launched in 2019.
Woolworths General Manager for e-commerce, Alistair Venn said the improvements will benefit frequent online shoppers who are looking to save on delivery costs, on different delivery options – from the big weekly shop or a midweek top up.
"At Woolworths, we want to make it easier for our customers to shop their way.
"As demand for online grocery shopping continues to grow, the needs of our customers are changing. More and more customers are looking for greater flexibility and shorter delivery lead times to place orders more often.
"Same day delivery is quickly becoming the expectation from our customers and we're proud to offer more same-day delivery windows than any food retailer in Australia."
He said the Delivery Unlimited changes were made to meet that demand.
Everyday Rewards points have also been doubled, meaning online customers could boost their points balance with every online shop, he added.
An annual subscriber to Delivery Unlimited who places an order between $100-$149 each week would stand to save at least $560 each year on delivery fees and reusable bags, and collect up to 15,600 base Everyday Rewards points, worth almost $80.
A Coles spokeswoman said home delivery was being offered for as low as $2 on Tuesdays-Thursdays, with higher fees paid for tighter time frames.
Free delivery kicked in when the spend reached $250.
"We know that our customers love the convenience of Coles Online and we are seeing increased demand for Click & Collect, with a minimum spend of $50," the spokeswoman said.
"We want to help our customers shop more easily anytime, anywhere, anyhow, and we continue to see significant growth in demand for online grocery shopping and we are investing in customer experience and capacity, which is having a positive impact on customer satisfaction," she added.
Coles eCommerce sales grew 52 per cent to $2 billion during FY21.

Subscribe to our free mailing list and always be the first to receive the latest news and updates.