July 7 | Financial Review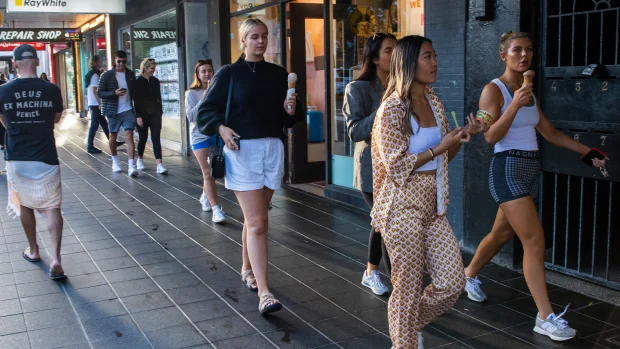 The changing face of Australia has implications for retailers as younger generations outnumber older ones and we become a more culturally diverse society.
Demographers and policy boffins aren't the only people poring over the results of the 2021 census. Retailers are also crunching the numbers, looking at the long-term implications for retail spending.
At first glance, demographic trends look positive for retailers, unless you're a seller of religious paraphernalia such as crucifixes and rosary beads. Almost 39 per cent of Australians claim to have no religion, up from 30.1 per cent in 2016.
The most encouraging trend for the $350 billion sector is the rise of the Millennials (25-39 years old, 5.4 million people), who are set to overtake Baby Boomers (55-74 years, 5.4 million) as the largest generational group in Australia.
"Millennials have the greatest spending power – they're starting to move towards the peak of their earnings potential – and the Baby Boomers are starting to phase out," says Retail Doctor Group chief executive Brian Walker.
Over the past 10 years, Millennials have risen from 20.4 per cent of the population to 21.5 per cent in 2021, while the once-powerful Boomers have fallen from 25.4 per cent to 21.5 per cent.
Millennials are already the biggest-spending consumers, in bricks and mortar stores and online, and are moving into a phase of their lives when they are likely to spend even more as they buy and renovate homes and start families.
Combine them with Generation Z (10-24 years), which represents 18 per cent of the population, and these two cohorts will be a powerful force in the retail sector.
Good news and challenges
According to Afterpay research, Millennials and Generation Z account for 36 per cent of total retail spending. They are forecast to account for 48 per cent by 2030, when more Zoomers will have entered the workforce.
"Millennials should have money and they're slowly moving into the big-spending area of their lifecycle," says Simon Kuestenmacher from The Demographics Group.
"Over the next 10 years, the single year of age that will see most growth is the 42-year-old, and that's great news because that's approximately the time of your life when you spend the most money."
While the rise of the Millennials and Gen Z is generally good news for retailers, differences between these generations and the Baby Boomers and Generation X could pose some challenges.
Millennials and Zoomers are digital natives – the first generations to grow up with internet connectivity and, in the case of gen Z, smartphones – while Baby Boomers and Gen X are digital immigrants.
Millennials and Zoomers are avid online shoppers and are heavily engaged with social media. According to Finder research, Millennials spent an average $308 a week online last year and Zoomers $282 a week (figures no doubt boosted by lockdowns), while ageing Boomers spent a paltry $54 a week online.
Their growing influence is likely to further fuel the shift towards online shopping, which accelerated during the pandemic. It accounts for more than 10 per cent of total retail spending and is forecast to reach 20 per cent.
Big retailers have adopted an omnichannel approach and are capturing a share of online spending, but the digital shift poses an existential threat to small and mid-sized retailers that lack a compelling digital presence.
"It has implications for every single main street in Australia. Those little shops operate on margins of 10 to 20 per cent max, so if your sales are down 20 per cent you don't open your shop any more," Kuestenmacher says.
As more consumers shop online, the cost of the last mile – delivering online purchases to homes – will also become more of an issue. Big retailers and start-ups are already subsidising the cost of delivery to win customers, making online margins lower than bricks and mortar margins.
Last-mile costs are likely to rise as more consumers opt for express delivery from start-ups such as Milkrun and Voly, and Woolworths' new 60-minute grocery delivery service, Metro60.
The rise of the Millennials and Zoomers is also likely to force retailers to lift their green credentials and sustainability game.
According to a recent Bain study, 18- to 34-year-old consumers in the Asia Pacific region were more likely to identify as being environmentally and socially conscious (17 per cent of respondents) than those aged 35 to 59 (13 per cent) and those aged 60 and older (11 per cent).
"They're conscious of their social footprint and conscious of environmental concerns and the origin of products," says Retail Doctor's Walker. "They're also more into hiring and renting for short-term purchases … and they aren't as conspicuous in their consumption as Baby Boomers."
Generational shift also has big implications for hardware retailers. As the cost of homes soars, Millennials and Zoomers are less likely to buy houses and more likely to buy apartments or rent, thereby spending relatively less on home improvement products.
According to the census, two-thirds of households (66.0 per cent) own their home outright or with a mortgage, down slightly from 1996 (67.8 per cent). The proportion of households that own with no mortgage has dropped sharply, from 41.6 per cent in 1996 to 31 per cent in 2021. A growing number of homeowners – more than 2.5 million or 10.3 per cent – live in apartments.
Homeowners with a mortgage are by far the biggest retail spenders, accounting for 48 per cent of retail spending, according to MST Marquee, while renters account for 27 per cent. Owners without a mortgage, predominantly Baby Boomers and pre-Boomers, account for 25 per cent of spending.
Kuestenmacher believes that over the next 10 years, more Millennials will move from renting to owning, providing a fillip for home improvement and furniture retailers.
"Over the last decade we had the biggest generation, the Millennials, in the renting phase of their lifecycle," he says. "Over the next 10 years, as Millennials form families … that means they move from the highest renting phase into the home ownership phase."
Hardware retailers have seen the writing on the wall and are adjusting their offer to meet the needs of Millennials and Zoomers, whether owners or renters.
Retailers are stocking portable storage products, removeable renovation products such as stick-on picture hooks and bathroom accessories, and responding to a surge of interest in upcycling vintage furniture. They're also using social media channels such as YouTube to educate and inspire new generations of DIYers, who lack the handyman skills of their Boomer parents.
Speaking at a global DIY summit in Denmark last month, Bunnings chief Mike Schneider said the hardware behemoth would increasingly use influencers and bloggers, boost its presence on YouTube and develop apps to help younger people improve their living spaces.
"Just as we got our collective minds around Millennials, along came Generation Z," Schneider said. "We believe Gen Z have defined attitudes and preferences that will require a reimagining of the DIY shopping experience.
"Today, they are infrequent purchasers of DIY products … and whilst that's probably not too surprising given most still live at home, it means there are fantastic opportunities to connect and engage and inspire them around all things DIY."
The changing face of Australia also has implications for food retailers. While population growth has slowed, due mainly to lack of immigration during the pandemic, we've become more culturally diverse.
According to the census, almost half of Australians have a parent born overseas (48.2 per cent) and 27.6 per cent were born overseas. India has moved past China and New Zealand to become the third-largest country of birth behind Australia and England.
The big supermarket chains have doubled their range of international foods over the past decade and are increasingly tailoring ranges to better suit community needs. But specialty Asian, Indian and Middle Eastern grocers continue to thrive, underlining the strength of demand for authentic ingredients.
Walker says the major chains need to do more, and staffing needs to better reflect the diversity of local communities. "It takes more than putting local cuisine on the shelves … it's about aligning oneself with that community at every level and having a genuine knowledge of the product, understanding its origin, how it's prepared and when it's eaten," he says.
Generational shift will inevitably lead to a change in leadership at major retailers, most of which are run by Baby Boomers – think Gerry Harvey and Katie Page at Harvey Norman, Solomon Lew at Premier Investments, Steven Cain at Coles, Brad Banducci at Woolworths, Terry Smart at JB Hi-Fi, and Myer's John King – and Gen Xers such as Premier's Richard Murray, Wesfarmers' Rob Scott and Don Meij at Domino's.
"Many are not too far off retirement age," Walker says.
It's simplistic to say retailers have to be Millennials to understand their Millennial customers. But the next generation of retail leaders will undoubtedly bring a new mindset to retail.
"They'll be more tech savvy, more invested in business information systems, data and fulfilment and logistics," Walker says. "They'll think about retail differently."
Subscribe to our free mailing list and always be the first to receive the latest news and updates.