31/05/22; Global Convenience Store Focus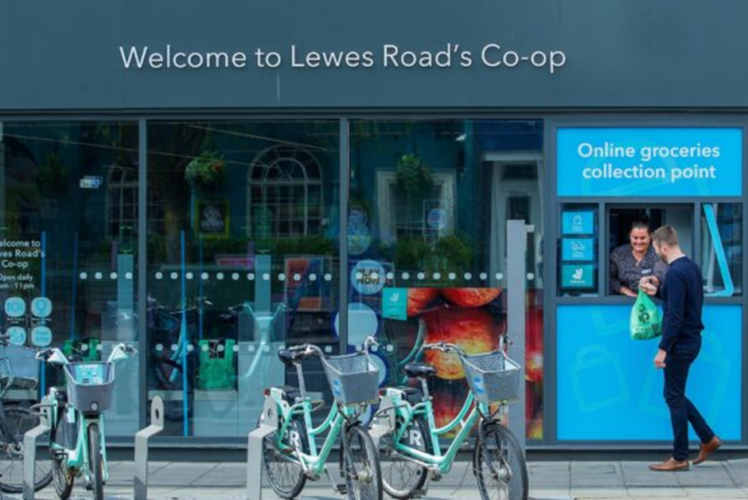 Rapid Grocery Delivery (RGD) or quick commerce is accelerating around the world and provides a huge opportunity for convenience stores who can leverage their local, proximity retailing footprints to service growing shopper need.
Quick commerce – where food and groceries are delivered to consumers in less than one hour and often sub 30 minutes – is worth £1.4bn in the UK, according to the IGD and forecast to grow to £3.3bn in the UK alone.
Globally, 60% of e-commerce shoppers now use RGD services, according to Kantar's eCommerce ON 2022 study, which analyses online shopper behaviour and motivations across 19 countries.
While penetration may vary – 91% of consumers use RGD services in Vietnam but just 15% do in Germany – quick commerce has become one of the most talked about phenomena to arise out of the COVID-19 pandemic, Kantar says.
IGD agrees."Rapid delivery, or 'quick commerce' as it is now known, has been around for some time, but COVID-19 has clearly catapulted its expansion to the point where it's become a channel in its own right," says Simon Mayhew, head of online retail insight at IGD. "Its growth is evident in the UK, but also on a worldwide scale, with players like Fancy, Getir, Weezy, Gorillas and Jiffy fast becoming household names," Mayhew says.
Indeed, data from Cardlytics, based on the purchasing habits of 22 million UK consumers' bank cards, found spend on rapid grocery delivery apps such as Getir, Zapp and Weezy grew by 123% in the last five months of 2021.
Meal kit apps are also flourishing and offer another way to get the right groceries into the home.
They have seen growth in Europe and North America, where 17% of online shoppers have adopted them. Hello Fresh dominates in five out of seven markets surveyed, with only Italy and Spain preferring local meal kit providers (Rana and Food in the Box, respectively), Kantar reveals.
Variations by country
Since top quick commerce providers vary by country, localisation is key and even neighbouring countries have different dominant players, reports Kantar.
Deliveroo is the leading RGD app in the UK, while in Germany the start-ups Gorillas and Delivery Hero are gaining share, say researchers.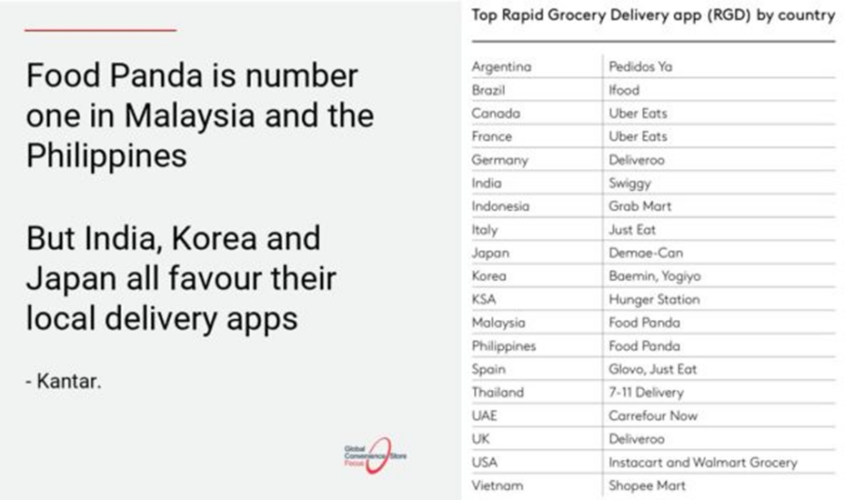 But it's not just the retailers that vary. What people buy is also different by country, the study finds.
Baby milk and diapers (nappies) are among the most frequent purchases by RGD in Spain, France and the UK, for example.
However, there are still differences between those markets in other FMCG categories.
Other frequently purchased categories in the UK include health and wellbeing, alcohol, soft drinks and snacks.
In France, snacks, alcohol, soft drinks, health and wellbeing and groceries are popular categories to buy via RGD; while Spain's frequent quick commerce purchases span snacks, alcohol, soft drinks and groceries but the country buys more via RGD across all of these categories than both France and the UK.
Shoppers tend to start RGD with one or two categories and, once the barriers are down, other categories are quick to follow, Kantar adds. This suggests quick commerce offers operators a high level of customer stickiness.
The IGD reports one in three shoppers in the UK have used, or are interested in using quick commerce and the most common drivers for purchase are food-to-go, top-up shopping and 'meal for tonight'. Further, more than seven out of 10 shoppers who use, or are interested in using quick commerce, can be inspired to use it to pick-up last minute items for key events such as summer barbecues, key sporting events, parties and public holidays, the IGD adds.
Both IGD and Kantar find the appeal of quick commerce is weighted towards younger shoppers. The younger the shopper, the higher the use of RGD, reports Kantar; while the IGD suggests the average age of the quick commerce is shopper is 36 and its main shopper group is young adults living in urban locations.
Sub-segments
Three sub sectors have emerged within the quick commerce channel, according to the IGD. These are:
Aggregators – third party websites like Deliveroo, offering on-demand fulfilment for both groceries and takeaways or Instacart for grocery deliveries in the US
Pure plays – these operators are building their proposition around a high- speed delivery service, often with delivery in fewer than 15 minutes. These players, including Jiffy, Dija, Getir, Gorillas and Fridge No More, run their own fulfilment centres or dark stores in urban areas for quick delivery. In the UK, Tesco is partnering with Gorillas to offer ultra-fast delivery in London and Manchester with Gorillas setting up micro-fulfilment sites at Tesco stores
Retailers – as well as partnering with third-party delivery services like Deliveroo, established retailers have launched their own services eg Sainsbury's Chop Chop, Tesco Whoosh and Ocado Zoom
Walking deliveries and robots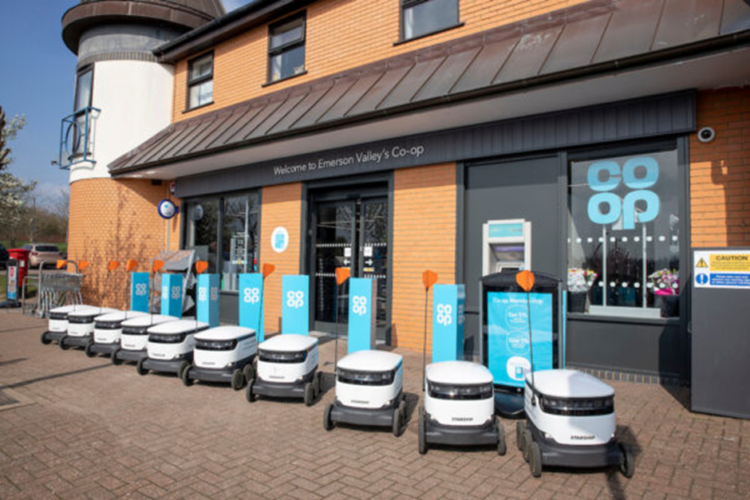 While it's often only the largest grocers that can offer delivery via third-party apps like Deliveroo, research by the scan, pay and go app, Ubamarket, found 37% of the UK population would be more likely to shop with their local store if a delivery service was available.
Further, it reports that 7 million consumers who lived outside of a major city, felt neglected due to not having a delivery app servicing their locality.
The Co-op is seizing this opportunity in the UK.
While it already partners with Deliveroo and is the most widely available supermarket on the Deliveroo app with over 1,000 stores, it has announced further expansion of its convenience-led food delivery service as quick commerce is catapulted into a new channel in its own right and busy consumers return to pre-pandemic lifestyles.
Co-op has unveiled goals to grow its online business by a further 50% to £300m by the end of this year, with online services now available at more than 2,000 of its stores in towns, villages and cities across the UK.
With estimates of the quick-commerce channel becoming worth up to £3.3bn in the UK alone, Co-op is expanding its online offer at pace through both its own online shop – which first launched in 2019 – and innovative partnerships.
In its latest Convenience Report, entitled 'Rapid delivery – meals in minutes from store to door', Co-op has revealed the next 'step' in its rapid roll-out of online 'quick convenience' by becoming the first UK supermarket to launch 'walking deliveries' for households and workplaces up to a 15 minute walk from its stores.
Expected to operate from 200 stores this year following successful trials in Cornwall, the move will enable Co-op to bring home delivery to more communities. The trial has seen shoppers use the service for top-up shopping, forgotten items and treats and meals for evenings at home, with users including a resident who is housebound following surgery, and parents of young children attracted by the ease and convenience of quick home delivery.
The roll-out is expected to include smaller towns and rural villages often considered 'off-line' by rapid home delivery providers who have a focus on dense urban hubs. This will help to offset some of that neglect felt by consumers surveyed by Ubamarket. Rising use of robots also forms a key part of Co-op's plans, with the autonomous home delivery robots taking to the streets of Cambridge for the first time in partnership with Starship Technologies.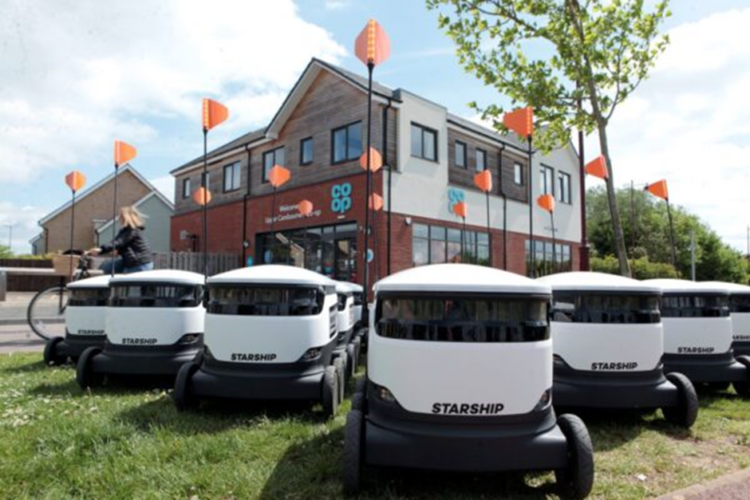 Co-op was the first UK supermarket to partner with Starship with robot deliveries now a familiar sight in Milton Keyes – where they were first launched – and, Northampton.
The community retailer is using the strategic advantage of its store locations to grow its online offer with groceries picked fresh and delivered locally from stores which act as micro-distribution hubs in the community, an approach which ensures the high street stores benefit from increased online demand.
Chris Conway, Co-op's e-commerce director, says: "Making shopping quick, easy and convenient for our Members and customers is at the very heart of our approach, our aim is to be the most convenient home delivery service and we continue to innovate to meet the needs of consumers.
Co-op stores across the country are well placed to serve shoppers locally and a key part of our strategy is to develop our e-commerce offer, using the competitive advantage of our store footprint to provide fast home deliveries, click and collect and added services.
We know that as a convenience retailer, the ability to pop into a local Co-op will always be important to customers, but we also know that they want flexible options online, and so we continue to work to meet customer needs, however, and wherever they choose to shop with us."
Subscribe to our free mailing list and always be the first to receive the latest news and updates.