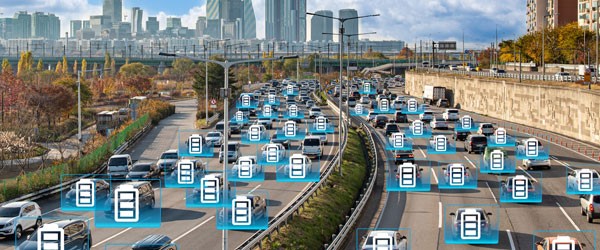 ALEXANDRIA, Va.—President Biden's State of the Union address on Tuesday touted the administration's efforts to build an electric vehicle (EV) charging infrastructure, which includes 500,000 chargers, and according to a recent Fuels Institute study, public funding may be responsible for up to 26% of the difference in charging infrastructure between markets with and without such funding.
"The combination of funding programs, whether they're grants or rebate programs, and a state-run program that aims to reduce transportation-related emissions, was associated with some of the highest levels of market development," ICF Lead Transportation and Energy Consultant Jonathan Norris told Utility Dive. ICF partnered with the Fuels Institute on the report "Evaluation of Policies for Electric Vehicle Charging Infrastructure Deployment."
Though the push for an EV charging infrastructure is there, it will be a stretch to make the President's goal to have half of new vehicle sales to be electric in less than a decade, according to John Eichberger, executive director, Fuels Institute.
"I don't think we're going to get to 50% by 2030, the federal goal, but I think we're going to get a pretty good number," he told Utility Dive.
The U.S. is making progress toward that goal, however, with light-duty EV sales in the United States almost doubling last year, rising 85%, while sales of plug-in hybrid vehicles grew 138%, according to new data from the U.S. Department of Energy.
Amid Russia's attack on Ukraine causing oil prices to soar, the president said EVs can save Americans $80 a month in gas, while also calling for a price reduction on the cost of an EV. He also praised American companies choosing to build new EV factories in the U.S., including Ford and General Motors.
"There's been a huge push toward renewable fuels and electric vehicles," said Doug Kantor, NACS general counsel, on a Convenience Matters podcast episode set to release next week. "The vulnerability of Europe's dependence on natural gas from Russia, but also the world's dependence on petroleum products from Russia, is causing some political pushback where people are saying, 'Look we have to develop traditional U.S. energy sources, petroleum and natural gas more to insulate us from those dangers.'"
In order for more Americans to get on board with EVs, the charging infrastructure must be sufficient, which means initially, the U.S. may need to build more chargers than are being utilized, says Eichberger. The Fuels Institute expects the U.S. will need a mix of 1.8 million public Direct Current fast chargers and Level 2 chargers by 2030.
"Not only do we need to build the infrastructure, we need to tell people the infrastructure exists. They need to see it, they need to experience it," he told Utility Dive. "They need to be reassured … And that's going to require probably an overbuild of the market, relative to what's actually necessary, to provide that customer assurance that they they're never going to stranded."
The upcoming federal funding "is important because it gives that kickstart, to start building the necessary infrastructure," Eichberger said.
The Fuels Institute report found that the most effective charging infrastructure had state management of rebates and incentives, and states employing a "broader set of policy approaches" will see stronger development of EV charging, in particular when combined with emissions reductions goals or mandates for the transportation sector.
Also, "simplicity, clarity, ease of use, and speed of delivery of funding," as aspects that make for successful programs, said Eichberger. "If they're cumbersome, if they're not organized and structured properly, then they're not going to do their job."
Last month, the Biden Administration released details of its plan to build an EV charging infrastructure. In late January, prior to the plan announcement, NACS filed comments with the FHWA on its upcoming guidelines for this alternative fueling infrastructure.
Here are EV charging infrastructure myths debunked.

Subscribe to our free mailing list and always be the first to receive the latest news and updates.