03/11/21, The Australian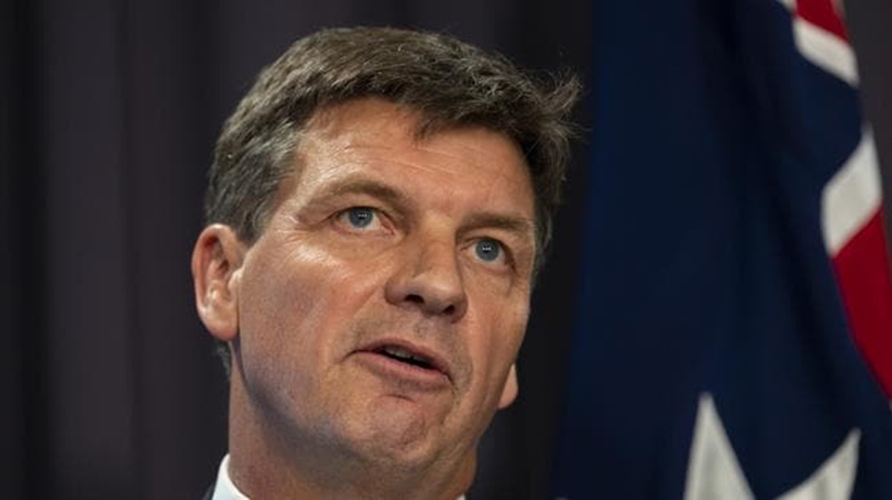 Energy Minister Angus Taylor. Picture: Martin Ollman
Ultra low-cost solar has been unveiled as the latest driver of Australia's 2050 net-zero emissions target, with new time frames set for emerging clean-energy solutions to achieve price parity with higher-emitting alternatives.
Energy Minister Angus Taylor on Tuesday released his second technology investment road map, which shows that getting clean-­energy solutions to cost parity or better with existing power sources is "the only way to reduce emissions without taxes".
The road map, which anchors Scott Morrison's net-zero plan and medium-term climate change strategy, is backed by $1.7bn in new funding for low-emissions technologies this year and guides the government's $20bn investment pledge over the next decade.
Mr Taylor, who is selling the government's long-term emissions reduction strategy at the COP26 summit in Glasgow this week, said "increased government investment in early-stage technology research, development and demonstration" would help de-risk the investment landscape.
"We recognise we cannot achieve this alone and that international collaboration is essential to accelerate our efforts. In fact, a step-up in global collaboration on practical solutions is the most meaningful and lasting impact this COP could have," Mr Taylor said.
The updated road map, endorsed by the Technology Investment Advisory Council, will help "unlock at least $80bn in private and public investment" by 2030.
Mr Taylor said Australia had committed $565m towards international partnerships with Korea, the UK and others in addition to providing $464m for the development of clean hydrogen hubs across Australia and $250m towards the advancement of carbon capture and storage.
"Accelerating the development and deployment of new and emerging low-emissions technologies is critical to making net zero achievable for all countries," he said. "We need to harness great innovators, engineers and enterprising organisations to bring low-emissions ­solutions to the market at costs that are attractive to investors."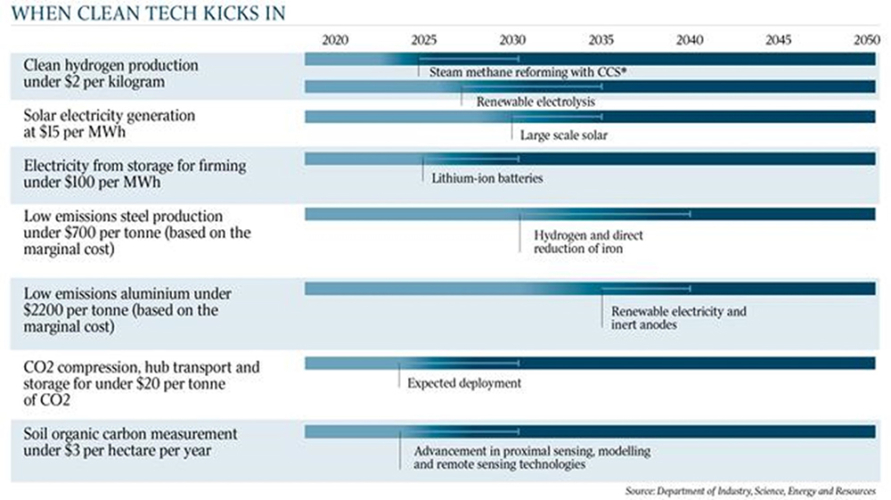 The second low-emissions technology statement sets out rough timelines by which the ­government hopes to achieve the "stretch goals" for its key priority technologies, representing the point at which these technologies are expected to become more commercially viable.
For example, the production of clean hydrogen for $2 per kilogram through electrolysis is expected to be achieved by 2035. The provision of electricity from storage for firming at less than $100 per megawatt hour is expected to be achieved by 2030.
By 2030, the government expects to be able to deploy carbon capture and storage technologies and to measure soil carbon at a cost of less than $3 per hectare per year to assist with the generation of carbon credits.
Ultra low-cost solar has a stretch goal of achieving power generation at $15 per megawatt hour by 2035. Mr Taylor said getting solar power down to less than $15 per MWh – a third of today's cost – would be critical to reducing electricity sector emissions and unlocking the potential of other low-emissions technologies such as clean hydrogen.
Subscribe to our free mailing list and always be the first to receive the latest news and updates.