The Asda Food Hub will be trialled in the retailer's Leicester and Dagenham stores initially and will see a brand-new concession at the front of store serving barista style coffees alongside premium grab and go options like sandwiches and cakes that are freshly prepared in store.

The food on offer will change throughout the day, providing tasty breakfast, lunch and afternoon snack solutions and there will be a host of exciting meal deals on offer.

Shoppers can get their hands on a breakfast sandwich and any regular hot drink for £3 to kick start their day, or if they're after something to switch up their lunch break, shoppers can enjoy a freshly made baguette and any regular hot drink for just £4.50.

The Food Hub will also provide a modern and welcoming new look and feel as shoppers enter the store, and shoppers can place their orders using touch screen tablets for a quick and efficient service.

The decision to bring this offering to stores forms part of Asda's broader strategy to become the UK's number two supermarket by bringing Asda's great quality and value to more customers in a way that's more convenient for them. Should the concept perform well, the retailer plans to roll out to further stores in the UK with a high footfall driven by the food to go mission.

As part of the launch of Asda Food Hub, the retailer will also be refreshing 10 of its Pizza and hot food counters across the estate. The counters at Ipswich, Killingbeck, Havant, Haydon, Walton, Doncaster, Longwell Green and Gateshead will also undergo a makeover, bringing them in line with the Asda Food Hub brand and experience.

The update will also see a host of tasty new dishes and deals added to the menu, including new a hot pizza range designed to give shoppers quality, takeaway pizzas at a fraction of the price of the traditional takeaway chains as well as the launch of a new Italian style pizza range.

The Italian Style range is a premium range of pizzas that has the iconic aerated Neapolitan-style crust, topped with a signature San Marzano tomato sauce and a delicious range of classic Italian toppings, sourced from the country itself.

Deals include Asda's famous Pizza Night In deal which gives shoppers two medium pizzas and a drink for just £6. And on Tuesdays and Wednesdays, shoppers can get two large pizzas for £8. T&Cs apply.
Commenting on the launch of Food Hub an Asda Spokesperson said:  

"We're incredibly excited to be launching Asda Food Hub and bringing the hot food counters at some of our stores a makeover in line with this experience. We're always looking for ways to give shoppers more quality choices at affordable prices and the new Asda Food Hub is a great example of us investing in our stores to be able to provide that for shoppers.

"We also know how much customers already love our pizza counters so are pleased to be able to elevate this offering, giving our customers easy solutions that rival restaurant and takeaway quality, without the hefty price tag!" The launch of the Asda Food Hubs follows a huge £1.2m revamp of the retailer's traditional food to go range of sandwiches, salads and wraps that added more variety and quality options to the range.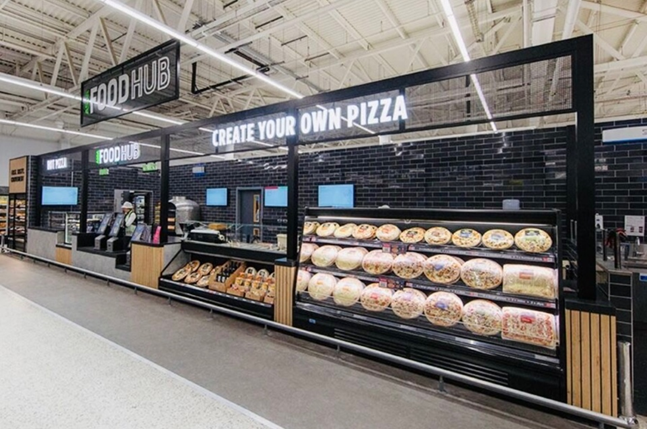 Article source found here.
Subscribe to our free mailing list and always be the first to receive the latest news and updates.