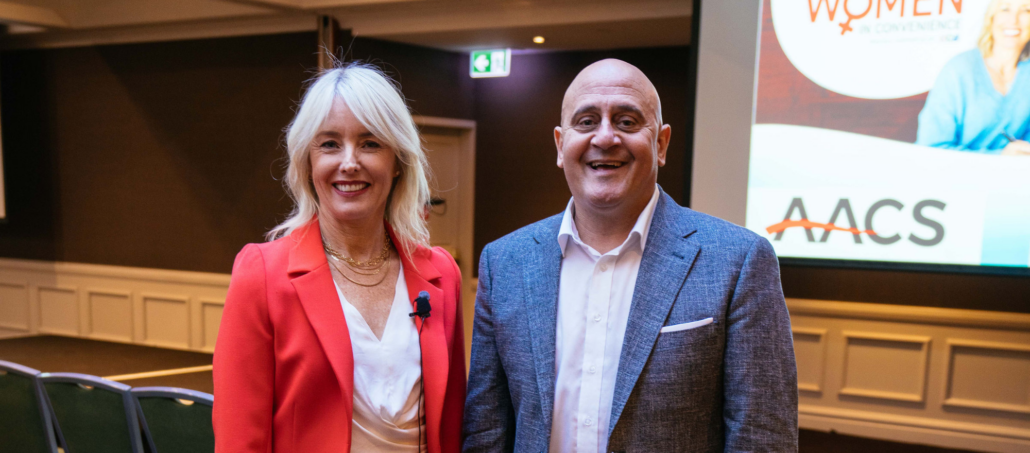 AACS held its first Women in Convenience event for 2023 in Sydney on 19th July, at the Pullman Hotel Hyde Park in Sydney. With 90 registered delegates, it was great to see a good mix of males & females in attendance, along with a combination of senior leaders & wider AACS members across various different functions within their organisation.  The AACS Women in Convenience events are designed to promote & support diversity & inclusion in the workplace, providing insights & strategies to support members in their career & personal journeys.
Our guest speaker for the event was Sheena Polese, a Leadership & Development coach with extensive experience in FMCG who specialises in coaching & development of women through the various stages of their career path.
Sheena's presentation focused broadly on leadership traits, personal development, personal responsibility & strategies that can be adopted to achieve your own personal goals. One of the key themes from Sheena's presentation included the concept of vertical development – whereby we have to take a good look at ourselves & understand the process of our own psychological development being a very important part of the process. Taking the time to know yourself, your strengths & derailers & how others experience their interaction with you is a critical first step for everyone.
Sheena also reinforced that personal development is something that everyone needs to take ownership of themselves, waiting for your manager or organisation to drive your development can often result in no development for you.
Another key theme Sheena discussed was getting to know your purpose – the why! Sheena challenged delegates to really focus on their circle of leadership, to understand their purpose & vision, and to know what they like & don't like. Always advocating for what you believe is important for everyone to really ensure it is aligned with their purpose.
Sheena shared examples of 10 key themes that can be used to develop yourself, summarised as:
Take the time to know yourself – strengths, derailers (and how others experience you)
Tune into your emotions and learn to regulate them
Act in accordance with your values
Be clear on your personal and professional purpose.
Engage in feedback.
3 c's – collaborative, curious and continuously gain clarity.
Invest in yourself – regularly.
Build relationships and know they are not all the same.
Give up control.
Play the long game.
One final theme that was discussed a lot in the Q&A was burnout. Burnout was raised by a number of delegates with questions around how to identify in yourself, your team members & what can be done to ensure that this is managed. Sheena's advice on this was to make sure you are having regular open honest discussions with either your support network, your line manager or friends. Emotional connection & talking about how you are feeling is very important in today's environment, as there are challenges that can become overwhelming very easily, especially given peoples willingness to wear more than one hat across their life.
AACS thanks UCB Stores (United Convenience Buyers) for their ongoing support & sponsorship of the Women In Convenience events.
AACS thanks all members who took time out of their busy schedules to support this important event series & hopefully continue their learning in the diversity & inclusion space.
EVENT PHOTO GALLERY:
 https://cambercollective.pixieset.com/aacs-pullmanevent/
DOWNLOAD PRESENTATION & WATCH THE RECORDING:
 https://www.dropbox.com/scl/fo/3hacd8vmv5rcosgwwpaxx/h?rlkey=tmkpp4jvt8pefs7otte23df9t&dl=0
Subscribe to our free mailing list and always be the first to receive the latest news and updates.