Herald Sun
The scourge of black market nicotine-containing vape products is "out of control", despite laws changing eight months ago. Here's why.
Police have been unable to point to a single fine against tobacconists selling illegal vapes, despite a change to the law eight months ago.
As authorities continue to fight over whose responsibility it is to enforce the laws, a lack of enforcement has led to black market nicotine-containing vape products being sold illegally in Melbourne, with experts saying the laws were "failing".
School leaders and experts have also warned the problem continues to be "out of control" and has reached boiling point in the schoolyard.
A Herald Sun investigation can reveal several tobacconists and grocers in Melbourne's CBD are selling illegal vaping products that contain nicotine, with many businesses hiding the products under their counters in a bid to evade authorities.
In Victoria, it is illegal for e-cigarettes – also known as "vapes" – to be sold to anyone aged under 18 years.
While adults are free to buy and use e-cigarettes, vapes containing nicotine require a prescription.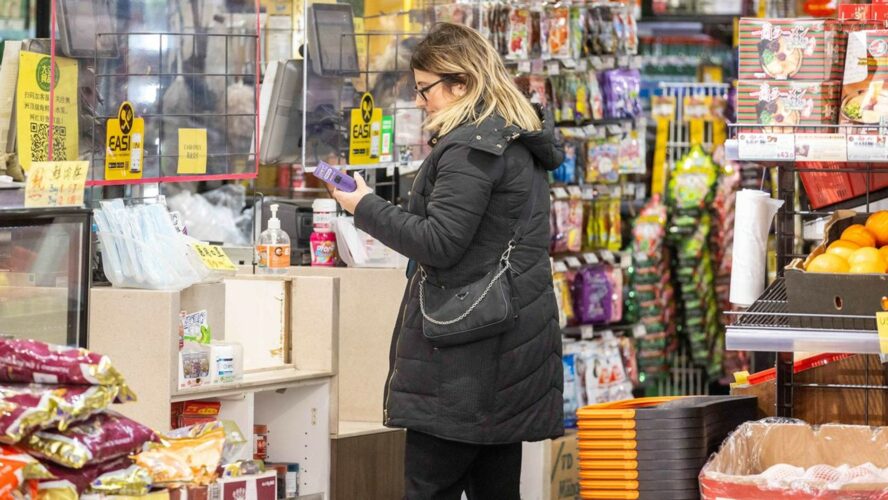 Journalist Suzan Delibasic inspects illegal nicotine vapes at a store in Melbourne. Picture: Jake Nowakowski
On October 1 last year, Australian Border Force gained the power to intercept packages of nicotine vapes, pods and liquid nicotine, with e-cigarettes being regarded as a Schedule 4 medicine.
Victoria Police is responsible for enforcing laws listing nicotine as a Schedule 4 poison, but council authorised officers can monitor the use, sale and advertising of vape products in relation to supply to children.
But when the Herald Sun contacted some councils, they wrongly stated that it wasn't their responsibility at all and redirected inquiries to Victoria Police.
At a Melbourne CBD grocer in Little Bourke St, the Herald Sun was presented with a variety of nicotine flavoured vapes including grape ice, pineapple and mango, with prices ranging from $27 for 1200 puffs to $45 for 4000 puffs.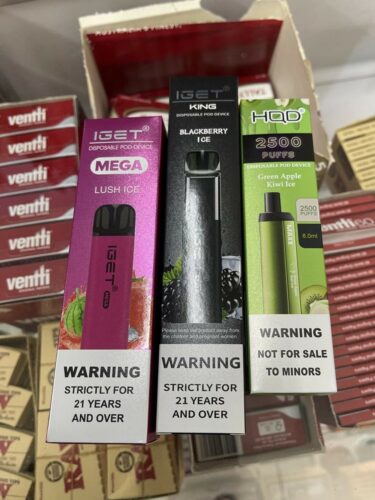 Nicotine-containing vapes are still being sold illegally despite a change to laws.
In a nearby tobacconist, the Herald Sun saw a trader present shoppers with a price list, enticing them to buy a new range of "recently imported" vapes.
The trader was then seen pulling out a box of vapes from under the counter and did not give receipts to customers upon purchase of the illegal goods.
QUIT Victoria director Dr Sarah White said the clear lack of enforcement was a "massive issue" and led to confusion over vaping laws, which were failing.
"All the council local environmental health officers can do is monitor sales to minors and checks on advertising, they can't seize anything that they consider to have nicotine in them, only Victoria Police can do that," Dr White said.
"We have a massive issue because the enforcement is not happening and I actually feel for Victoria Police on this one because what they have to do is seize the goods, test them for nicotine and then this has to go right through a prosecution scheme."
She said Victoria urgently needed a retail licensing scheme, which would identify all retailers selling tobacco and e-cigarettes and allow authorities to track rogue operators.
"Victoria and Queensland are the only states that don't have a licensing scheme. If this was in place, we could authorise health officers to test for nicotine and anyone who was found to have it could be handed a big on-the-spot fine without having to burden the court system."
She added that vaping was still "out of control" in the schoolyard.
"We are getting phone calls from teachers and parents all the time from schools about the issue asking for support, schools are so overwhelmed by this issue."
Dr White said vaping was known to cause local irritation and damage through the respiratory tract due to an accumulation of exposure to the chemicals including nicotine, which can cause long-term effects of the cardiovascular system.
A principal at a high school in Melbourne's southeast said vaping continued to be rife among students.
"The problem has not gone away, students are still being found to smoke vapes in the toilets, it's clear that they are so easy to get and they're cheap," she said.
A Victoria Police spokesman said: "Vaping is predominantly a health issue."
"Victoria Police is aware vaping is an emerging issue and has increased in popularity, including among young people," he said.
"To this end Victoria Police has engaged with schools in some areas to help inform parents and staff," he said.
Subscribe to our free mailing list and always be the first to receive the latest news and updates.